About Zone Fitness Chelmsford
Our mission is to create a friendly, safe, and body-positive environment for anyone looking to reach their health, fitness, & wellness goals.
Zone Fitness Chelmsford has been changing lives all over Chelmsford since 2005. We believe in creating a friendly, safe, and body-positive space for all of our customers. From personal training to group fitness, there's something for everyone at Zone Fitness Chelmsford!
"Ashling is an awesome personal trainer! She listened to my goals and injury history and has designed perfect workouts for me. I feel better after only 4 sessions and look forward to more."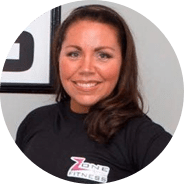 Ashling Perham
Owner + Personal Trainer
Years of experience: 8
Credentials: ACE, CPR/AED
Ashling was raised and currently lives in Chelmsford. She has owned and operated Zone Fitness Chelmsford for 8 years and was a client before she made the jump into the fitness industry. Ashling has a long history of coaching and was a very active figure skater and skating coach for most of her life. Her skating and love for fitness bring a very unique approach to her training style. Ashling believes that with hard work and proper nutrition results can be obtained. Ashlings philosophy involves equal importance in strength training, metabolic conditions, and cardio endurance. The most rewarding aspect of the job is seeing each client's hard work pay off while making fitness a part of their daily routine.
In my free time I like to:
Play with her puppy Winni who can often be seen at the studio. Ashling also enjoys golfing, spending time during the summer in Maine, gardening, and playing with her nephew and niece.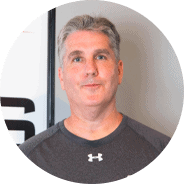 Chris Hayward
Personal Trainer
Years of experience: 20
Credentials: ACE, CPR/AED
Chris has been with Zone Fitness for 8 years. He lives in Chelmsford with his wife and two daughters. Chris has a very unique training approach of a mix of strength and resistance training. Clients of Chris are often seen mid-workout on cardio equipment as well! Chris's mission is to empower and educate clients, on exercise and healthy lifestyle behavior changes. Movement is medicine and he prides himself on corrective exercise, pain relief, and metabolic training. Over the last 10 years, Chris has been training and educating all levels of fitness in boutique studios and private 1:1 sessions. Whether your goal is to lose weight, improve hip mobility (or any other injuries), or just to continue to be an avid exerciser for quality of life and longevity, Chris can certainly accommodate your challenges here at Zone Fitness Chelmsford.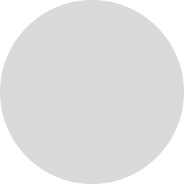 Jean Silk
Spin Instructor
Years of experience: 15
Credentials: Mad Dog Spin, CPR/AED
Jean is a long-time Westford resident and teaches spin, yoga, and pilates at a number of studios and fitness clubs in the area.